IN THIS UNIT:

Reading Passage and Practice: The Water Cycle
Math: Cubic measurements and percentages
Vocabulary: Scientific terms related to water on the Earth
Writing: Summarizing
Project: Create and comment on a model for the water cycle.
Game: Crossword puzzle
---
SUPPORT ACTIVITIES IN
READING | WRITING | MATH | PROJECT | FUN
Just how much water is there on (and in) the Earth? Scientists believe that the total water supply of the world is 326 million cubic miles. (We'll find out what that means later in this unit.) That includes the water in lakes, rivers, oceans, and everywhere else! As you can see in the chart below, most of our water, or 97%, is stored in oceans.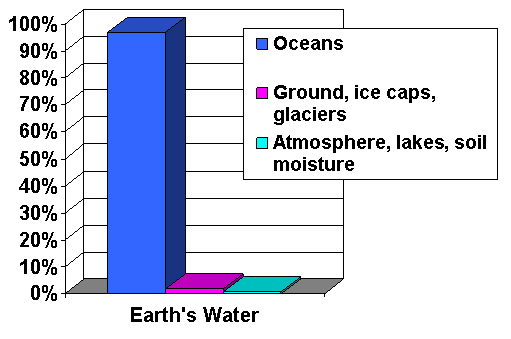 Of the freshwater on Earth, much more is stored in the ground than in lakes and rivers. More than 2,000,000 cubic miles of fresh water is stored inside the Earth.
Lakes, rivers, and other bodies of fresh water store about 60,000 cubic miles of water. To find the freshest sources of water, you would have to go to the glaciers and icecaps. They are mainly in the polar regions and in Greenland. They store 7,000,000 cubic miles of water!
The balance of water on Earth remains fairly constant over time. However, individual water molecules can come and go in a hurry. The water in the fruit you ate yesterday may have fallen as rain last year, half-way around the world! That water could also have been used thousands of years ago by a mammoth drinking from a lake!
How does water get recycled (used again) on Earth?